Stories Published on July 19th, 2012 | by Seán Ward
0
1,000 Lamborghini Aventadors Built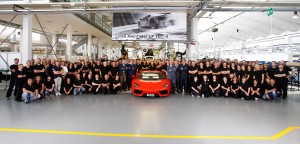 Lamborghini has just announced that its 1,000th Aventador left the factory today, surrounded by every Lamborghini employee, as well as Lamborghini CEO Stephan Winkelmann.
Finished in Argos Orange, the keys were handed by Winkelmann to the proud owner Hans Scheidecker, a Bavarian architect who has owned many Lamborghinis before, and also currently has a Diablo tucked away in his garage.
And for those who don't know much about the Aventador, it is the first V12 Lamborghini to have a 'new' engine since the company started producing such cars with the Miura back in 1966. It has a 6.5 litre V12 engine producing, as near as makes no difference, 700 bhp (hence the technical name 'Lamborghini Aventador LP700-4'), and can get from 0-60 mph in less than 3 seconds and on to a top speed of 217 mph.
Prices are somewhere in the region of £250,000, before you look at options.