Stories Published on October 31st, 2011 | by Seán Ward
0
1,000,000 Mile Honda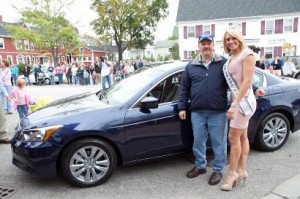 Honda owner Joe LoCicero has been flung into the motoring media spotlight after driving his Honda a total of over 1,000,000 miles.
Done over a fifteen year period, the 1990 Honda Accord has been driven around 62,000 miles per year.
Joe started keeping records of his odometer after 300,000 miles, and since then has been updating the world on his fan website, www.millionmilejoe.com, uploading 661 photos of his rising mileage.
As a reward for his dedication to the Honda brand, Honda America gave Joe a brand new 2012 Honda Accord as part of a large celebration to mark his, and his car's, achievement.
The presentation, and subsequent parade, took place in Saco, Maine, in America. The one-block-long celebratory group included a giant odometer float, marching bands from local schools and theatre stilt walkers.
[portfolio_slideshow]