Stories Published on December 16th, 2011 | by Seán Ward
0
1,500,000 Skoda Octavias Built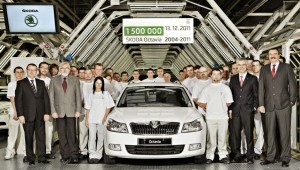 The second generation Skoda Octavia reached an historic milestone yesterday after the 1,500,000 vehicle was built.
The Skoda Octavia II has been on sale since 2004, with sales steadily increasing as the car has been updated.
This latest car was a 'GreenLine' version finished in white, and will be sold as usual to an unsuspecting customer.
Michael Oeljeklaus, a Skoda board member, said "For the past 15 years, the Octavia has been the heart of the Škoda brand. It is a true 'Simply Clever' vehicle: Spacious, practical, family-friendly, and affordable.
"The model has left an important mark on the rapid rise of our company since the nineties. In particular, the second generation built since 2004 has meant another leap forward for us.
"The figure of 1.5 million manufactured Octavia II expresses this success in a special way. The Octavia will continue to play a vitally important role in our model range in the future and make a central contribution to our Growth Strategy 2018."
Skoda had a 10.5% registration increase in 2010 over 2009, and will be continuing with the sale of the Octavia for the foreseeable future. Skoda has also been in the top ten of the J.D. Power Survey of Customer Satisfaction for the past 18 years.
The 500,000th Octavia was built on 20th April 2007.