Stories Published on December 30th, 2011 | by Seán Ward
0
£2.7 Million to Tackle Motorway Closures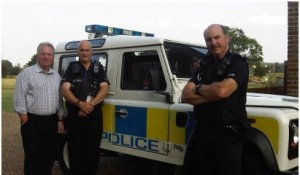 The Department for Transport has announced that it will award £2.7 million to police forces to tackle motorway closures.
The money has been given to 27 police forces to help them pay for 3D scanners, which reduce road closure times by scanning the accident scene for later analysis.
3D scanning is being rolled out by the government as part of an initiative known as 'CLEAR', which aims to reduce the number of queues motorists face, and reduce overall travel time.
The news comes less than a month after a government statistic showed that there 18,000 full motorway closures, lasting for more than 20,000 hours.
Roads Minister Mike Penning said: "There is nothing more frustrating than being stuck in a traffic jam for hours on end. But even worse than that is the shocking £1 billion cost of those lost hours for our economy. That is why we are determined to improve the clear-up of accidents so we can get our motorways re-opened as quickly as possible.
"Today's £2.7 million DfT funding award will see 3D laser scanners rolled out quickly where they are needed most. This will benefit drivers by reducing incident clear up times by 39 minutes on average.
"I would like to thank police forces for seizing this opportunity to purchase laser scanners and contributing funds towards the purchase. This clearly demonstrates how forces are committed to helping to keep traffic moving, in support of economic growth."
Assistant Chief Constable Sean White, of the Association of Chief Police Officers (ACPO), spoke of how the technology would be deployed: "The provision of the latest, leading edge 3D laser scanning technology to assist in the expeditious and detailed scanning of collision scenes will make a very important contribution to properly investigating fatal and life changing collisions whilst always being mindful of the level of economic and other disruption that closures of the strategic road network inevitably cause.
"Police forces acquiring this equipment will be in a better position to manage such critical events in a more efficient way and present the most accurate and detailed evidence from the laser scanning devices to criminal, civil and coroners' courts.
"The equipment will be deployed day and night across England and will make a real difference to improving the capability of collision investigators, reducing delays for all road users and re-opening motorways and other strategic roads at the earliest opportunity."