Geneva Motor Show 2012 Published on March 8th, 2012 | by Seán Ward
0
2000 New Jobs for Nissan UK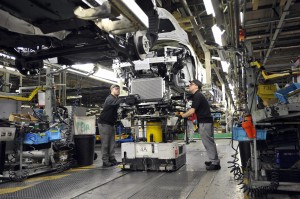 2000 new jobs have been created by Nissan UK following its announcement to produce a new compact car at Nissan's Sunderland plant, based on the 'Innovation' concept unveiled at Geneva.
Nissan Executive Vice President, Andy Palmer, unveiled the car, saying it would be built alongside the current Juke production line in Sunderland.
The plan has also taken on the role of producing all of Nissan's car axles, cylinder head casting, camshaft machining and engine assembly.
Nissan has said that the changes represent a £125 million injection into the UK economy, helped by the Government's investment in Nissan of £9.3 million.
Trevor Mann, Senior Vice President for Nissan Manufacturing in Europe, said: "This plant has a 20-year heritage in producing successful compact cars stretching back to the first Micra rolling off the line in 1992.
"I'm delighted that Sunderland has secured what will be another very important model for Nissan in Europe. It is a testament to the workforce, the ongoing support from the UK Government and all of our regional partners and suppliers.
"The additional volume will maintain Sunderland as the country's largest car plant and we expect and look forward to a very busy future."
Business Secretary Vince Cable added: "It is fantastic news that Nissan will be building the new model in Sunderland. The investment is a boost for jobs at Nissan's plant as well as the wider supply chain.
"This latest announcement highlights the UK's track record of attracting inward investment. Global vehicle manufacturers are beating a path to the UK's door. They recognise that the Government values the automotive sector.
"Nissan was able to push on with developing this latest project thanks to the Regional Growth Fund offer."
Production is predicted to be around 100,000 units per year.