Frankfurt 2011 Published on September 15th, 2011 | by Seán Ward
3
2011 Porsche 911 Carrera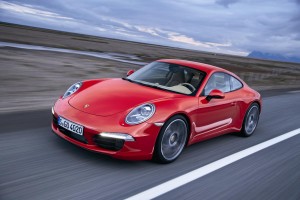 Porsche has once again proved that you can get away with bringing out the same car over and over again for more money.
Or have they? On the face of it, yes, they have. The new car does indeed look different – the wheel base is 100 mm longer, the body panels have been restyled to look more aggressive, to name but a few minor changes – but, the overall 'Porsche 911' look hasn't been lost, or as Porsche put it, "the distinctive Porsche design language has remained".
A new flat-six 3.4 litre engine producing 350 bhp is used in the Carrera, and the Carrera S has the same 3.8 litre flat-six as the previous generation S, but with 400 bhp.
The 3.4-litre Carrera with PDK accelerates from 0-62mph in 4.6 sec, 0.1 sec quicker than the prior model. Pressing the Sport Plus button on the optional Sport Chrono Pack cuts that to 4.4 sec. The 3.8-litre Carrera S with PDK can accelerate from 0- 62 mph in 4.3 sec (Sport Plus 4.1 sec), 0.2sec quicker than its predecessor.
A new rear axle and new electro-mechanical power steering, as well as a weight reduction of 45 kg, has made the car not only more agile, but a more driver focussed car, rather than something to be used by posers.
On the inside, Porsche's inspiration has come from its hypercar, the Porsche Carrera GT.
Unveiled at the Frankfurt Motor Show, the new Carrera will go on sale in the UK at Christmas time, 2011.
The Carrera will cost £71,449 and the 911 Carrera S is priced from £81,242. Standard equipment on all models is leather interior, sports seats, automatic climate control, Bi-Xenon headlights, 7-inch colour touch-screen Porsche Communication Management with satellite navigation, a universal audio interface offering MP3 connectivity, Porsche Stability Management (PSM) and a three year warranty.
The Carrera S adds 20-inch alloy wheels, Porsche Active Suspension Management (PASM) and Porsche Torque Vectoring (PTV) with rear limited slip differential.
The Porsche Vehicle Tracking system is standard on all new 911s.
[portfolio_slideshow]