Paris Motor Show 2012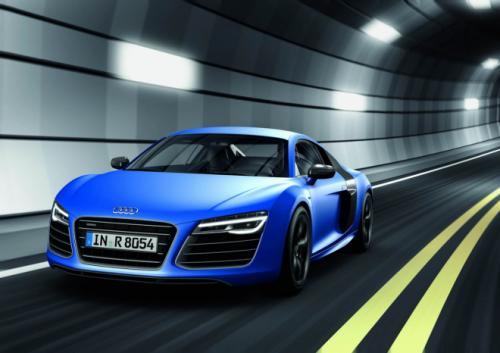 Published on July 25th, 2012 | by James Allen
0
2013 Audi R8 facelift: first pics and details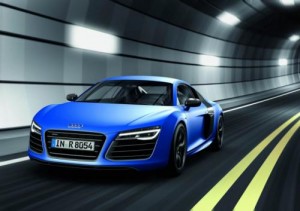 The Audi R8 range will be getting a bit of a spruce up next year, and Audi has just released the first patch of press pics and details regarding this facelift ahead of its official launch at this September's Paris Motor Show.
As far as cosmetics go, it's mostly just nip n' tuck here and there, with redesigned bumpers and the new LED lamps that are now a part of Audi's design language nowadays, along with a larger rear diffuser. Apart from that, it's still mostly the same R8 shape we first saw being unveiled five years ago.
The changes under the skin also aren't what you'd call 'revolutionary', but are still worthy of a mention. The engine choices remain (424hp 4.2 V8, 518hp 5.2 V10), as does the six-speed manual, but the R-Tronic semi-auto option has now been erased from the spec sheets. Instead, there's a new twin-clutch seven-speed S-Tronic, which is an option on the V8 and standard fit on the V10.
This new 'box, according to Audi, not only means the cog swapping will no longer be a clunky or jerky affair, but it also improves performance and emissions as well – the sprint to 60mph is, at 3.6 seconds, three tenths faster than the pre-facelift R8 V10, and emits 22g/km of CO2 less. Not that most buyers will be interested in how much carbon comes out the back of their mid-engined supercar…
But wait! There's still more to come – as part of this refresh of the R8 range, a new flagship model has been added. Called the 'R8 Plus', it's based on the V10 coupe model, yet comes with a few more extra goodies. As you'd expect from something with the word 'plus' in its name…
Power, for instance, is now up to 542bhp, which means a 0-60 time of 3.5 seconds and a top speed officially pegged at 197mph. There are also  suspension components, new bits of exterior trim (such as black exhausts and new, lighter alloy wheels) and, in the bid to reduce the car's mass, less insulation and lighter bucket seats.
No prices for us Brits have been announced just yet – they'll most likely be revealed at September's Paris Show – but expect an increase in the RRP. If the figures for the German market are anything to go by, the base model will cost about £88,000, with the flagship R8 Plus starting off from £135,000 or so.
In the meantime, though, check out our image gallery below.
[portfolio_slideshow]