Stories Published on January 25th, 2012 | by Seán Ward
0
2013 Corvette 427 Convertible Auctioned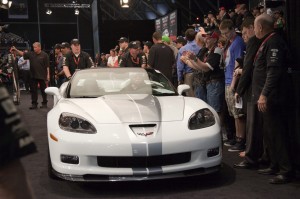 The first 2013 Corvette 427 Convertible has been auctioned in Arizona, Corvette has announced.
The sale, held at Barret-Jackson, is the first example of the special edition Corvette due to do on sale towards the end of the year.
Bidding started relatively low, but in the end rose to $600,000, all of which will be donated to the Drive to End Hunger food relief program.
Marked as Vehicle Number 001, the price exceeded all expectations, considering it is, with the exception of being the first car, a standard production vehicle.
Corvette says the 427 7 litre V8 engine produces 505 horsepower and 637 Nm of torque and has a 0-60 mph time of 3.8 seconds.
Unusually for a new American car, it is only available with a six-speed manual gearbox.
Corvette commented: "The Drive to End Hunger is part of a multi-year sponsorship for Gordon's No. 24 Chevrolet.
"It calls on racing fans, corporations and charitable organizations to raise money, build awareness, and engage Americans who face the threat of hunger."
[portfolio_slideshow]