Geneva Motor Show 2012 Published on February 25th, 2012 | by Seán Ward
0
2013 Ferrari 620 GT Prototype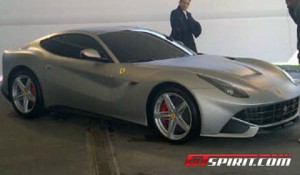 A spy shot of the finished 2013 Ferrari 620 GT has been released on to the internet following a top secret Ferrari preview event before its launch at Geneva next month.
Sent to us by the Editor of GTSpirit.com Marc Rutten, it shows the whole car for the first time.
Although this isn't a working car (it's a wooden model used to preview everything except the interior) the car is as it will be when delivered to customers next year.
Up front, the bumper is more reminiscent of the FF than the 458, but it still looks like the successor to the 599, rather than just a bigger 458.
Supposedly, the car will have a 6.3 litre V12 engine producing 730 bhp, by far and away the most powerful Ferrari road car ever built. 0-60 will take 3 seconds and the top speed will be around 220 mph.