Stories Published on January 23rd, 2012 | by Seán Ward
0
2013 Mustang GT500 Prototype goes to Auction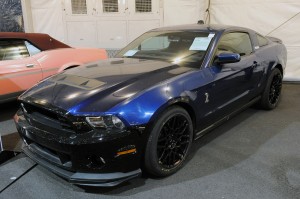 The prototype 2013 Shelby Mustang GT500 went to auction this weekend, bucking the trend for the destruction of testing mules as production begins.
The car, which spent its time endurance testing in Italy, still carries the obvious looks of a mule, with odd coloured bumpers, a basic interior, bucket seats and roll cage.
The rest of it, however, including the suspension, gearbox and steering is the same as the new GT500.
Also the same is the rather excellent supercharged 5.8 litre engine which produces 650 bhp.
Rough round the edges, yes, but the only one in the world, so definitely a very unique car, especially as the whole development team from Mustang signed the inside of the bonnet.
Expected to sell for $100,000, it actually sold for $300,000.
[portfolio_slideshow]