Stories Published on December 6th, 2012 | by Seán Ward
1
2013 Plates Might Put Off Superstitious Drivers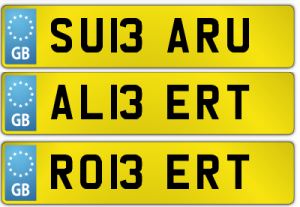 Buyers of new cars in 2013 might be put off their new purchase entirely as with the New Year comes a new set of registration plates, all of which will feature the 'unlucky' number 13.
Strange though it seems, the plates, which have already been produced by the DVLA, could cause a massive slump in sales, so the DVLA (Driver and Vehicle Licensing Agency) is considering offering 62 plate alternatives.
"As is always the case with any contentious issue, it will come down to personal preference," said Simply Registrations Managing Director and Founder James Saperia.
"Motorists who religiously change their cars every three years will have been looking forward to their upgrade and may choose go ahead regardless of the number on their registration plate, while others who may not be superstitious themselves could be concerned with resale values of cars carrying  a 13 number plate. They may decide to hold off for 6 months before buying that new car in order to protect their investment.
"Then, of course, there are buyers who genuinely feel that the number 13 will bring them bad luck."
Predicting the drop in sales in September, the DVLA has lowered the prices of personalised registrations to £250, a decision which prompted Saperia to mention the flipside to the 'bad' plates: "For others the number 13 could be just what they've been waiting for. Lots of options are opened up with combinations such as 'AL13 ERT', 'RO13 ERT' and 'SU13 ARU' all becoming available."
Also, the Society of Motor Manufacturers and Traders have said that "2012 has been a very positive year for new car registrations and we're expecting that to carry on into a strong 2013. Early indications suggest the 13 plate will prove incredibly popular with UK car buyers."
According to a study carried out by the University of Warwick, a number plate with a surname increases its value by £1300, a plate with a first name increases its value by £1100, having the number '1' at the front increases the plate's value by £1000 (as does the letter S), and having the letter 'F' at the start of a plate could decrease its worth by just under £1000.
There is one exception to the 'F' rule, however: the plate 'F1'. Currently owned by businessman Afzal Kahn, who owns A. Kahn Design, a British engineering company that modifies and redesigns vehicles, bought the 'F1' plate in 2008 for the small sum of £440,625, and now proudly keeps the plate on one of his two Bugatti Veyrons. It's funny to think that one of the most amazing cars ever built is worth £1 million, and yet Kahn has refused to sell the plate for offers of more than £5 million.