Stories Published on February 9th, 2012 | by Seán Ward
0
250 bhp Kia Track'ster Concept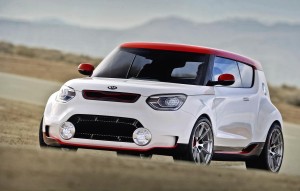 Kia has launched its 250 bhp Track'ster Concept at this year's Chicago Auto Show, a car which Kia says marks "a significant step away from its Soul stable mate".
What it is, essentially, is the first proper hot hatch from Kia, and on face value it looks like they've done rather well.
Power comes from a 2.0 litre in-line-four fitted with a modest turbo, before being sent to all four wheels by an electronically controlled four-wheel drive system.
To keep the car stuck in control, it has traction control, 19-inch rear Michelin Pilot Sport PS2 high-performance tyres, and 14-inch vented Brembos with six-piston calipers up front and 13.6-inch discs and four-piston calipers at the rear.
It also has a modified Kia 'sports' gearbox to send the power through to the wheels, and a rather nice start/stop button.
To put it kindly, the Track'ster is recognisable: a bright orange roof, white exterior, HRE-K1 monoblock billet performance wheels, carbon fibre front and rear bumpers, with suede-covered racing seats sitting nicely on the inside.
The orange, Kia says, is 'perfectly suited for racing' – how is unclear, but the concept does look like a proper hot hatch.
"The idea was to make the Track'ster tough looking, like a bulldog," said Tom Kearns, Chief Designer for KMA.  "But the car had to be approachable as well.
"We wanted to base the car in reality so people instantly knew it was a Soul, but with a lot of attitude. It had to be a bold interpretation that would change people's conceptions of what a sporty Kia could be.
But there are two problems: Firstly, the rear seats have been replaced by a spare wheel and parcel shelf. Secondly the Track'ster may not even be built.
"Concept cars are icing on the cake,"said Kearns. "They allow KMA's design team to dream about what could be. Whether that dream becomes a reality or not is a separate question."
[portfolio_slideshow]