Stories Published on March 28th, 2012 | by Seán Ward
0
257 mph Ford GT Video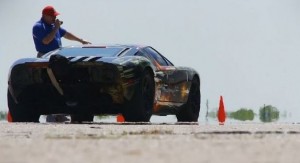 Hennessey has created a monster; a Ford GT with more than 1000 bhp, capable of getting to 257.7 mph in a standing mile.
The feat sees the car and driver Sean Kennedy enter the record books after the Texas Mile Event at Chase Field Industrial Complex in south Texas, breaking the previous record of 250.1 mph.
"I was impressed with how hard it pulled in fourth and fifth gears on that run," said Sean. "I think I can do better in the lower gears next time and we can run an even better speed.
"We're coming back in October for sure – we want to go 260!"
As well as racing modifications to the 5.4 litre V8, the engine has twin Precision Turbochargers running on 34 psi of boost on 117 octane racing fuel.
The modifications were undertaken by Kevin Kesterson from Hennessey Performance, overseen by the car's owner, Mark Heidaker.
"I knew when I saw 204 mph come up on the scoreboard at the half mile, that it was on," said Kesterson. "I just couldn't wait to see what it was going to run out the back."