Stories Published on August 23rd, 2011 | by Seán Ward
0
298 Cadillacs Make New World Record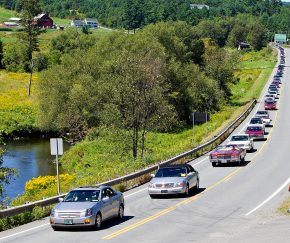 A string of Cadillacs have set a new world record for the number of same make cars in a continuous convoy.
298 Cadillacs, ranging from the very latest models to cars of the 60s, set the new record, confirmed by the Guinness Book of World Records, as part of a tribute to the founder of the Cadillac brand, Henry M. Leland.
Thousands of people came to watch the group pass through Barton, Vermont.
The vehicles, at one point, were covering 1.6 km in total.
Don Butler, Vice President of Cadillac advertising, said "Cadillac congratulates the residents of Barton and all of the Cadillac owners who participated in the parade, and for setting a new world record in Henry Leland's home town."
[portfolio_slideshow]