Stories Published on May 18th, 2012 | by Seán Ward
0
£400,000 Raised by Help for Heroes Rally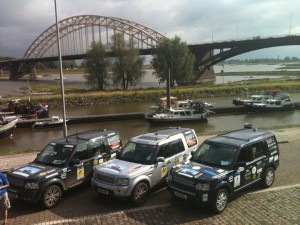 Teams involved in the Help for Heroes 4×4 European Rally 2012 have announced that since the first event in 2010, more than £400,000 has been raised.
The figure is especially astounding as the first event was supposed to be a one off that would only make a maximum of £20,000.
This year's event runs between the 16th and 28th June, and starts from Littlecote House Hotel, Wiltshire, UK, retracing the route allied forces took after D-Day in 1945.
Covering more than 2000 miles, 45 vehicles crewed by serving and ex-military personnel, as well as civilians, are taking part, moving across Salisbury Plain, then to Portsmouth, across to France, and then Normandy and WWI battlefields in Ypres, Belgium.
It will then visit Arnhem in Holland, the infamous site of 'Operation Market Garden' before heading south to Bastogne back in Belgium, the site of the 'Battle of the Bulge', then the Alsace region of France, the Dachau Concentration Camp Memorial in Germany, and finally to Hitler's 'Eagle's Nest' in the Bavarian Alps at Berchtesgaden.