Stories Published on January 22nd, 2012 | by Seán Ward
0
400bhp Audi RS4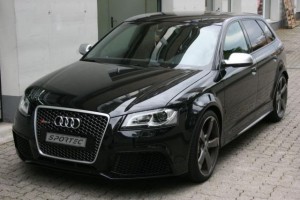 Sportec has taken the already very fast RS3 and turned it into something a little faster, and a little louder.
The standard Audi RS3 Sportback has a 2.5 litre, five cylinder turbocharged engine that produces 340 bhp and 333 lb-ft of torque, but Sportec remap the ECU so it produces 402 bhp and 406 lb-ft of torque.
Normally, the 0-60 mph time is 4.6 seconds, but the changes mean it will do it a tad less than 4 seconds.
But as this is a Swiss company, and as we know the Swiss are renowned for hating motorists, Sportec offer a package for drivers outside of Switzerland, which increases power further to 493 bhp and 500 lb-ft of torque.
As you can imagine, 0-60 takes even less – in fact, it's something of a 0-60 Ferrari killer, at 3.3 seconds.
[portfolio_slideshow]