Stories Published on February 15th, 2011 | by Seán Ward
0
458 Fires Explained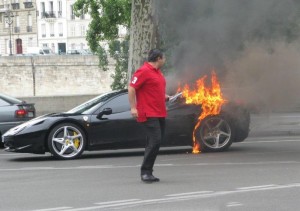 Ferrari has just announced the cause of the fires that have led to media frenzy over the past few weeks.
"When the car is driven to high exhaust temperatures, in hot ambient temperatures, the adhesive used in the wheelarch assemblies can overheat and allow the rear wheel housing heat shields to move around. In extreme cases, the glue can begin to smoke and even catch fire," said a Ferrari spokesman.
The spokesman continued with: "It would only be a problem if the car is driven very hard" [surely the main reason for buying a Ferrari] and that "we will be replacing any of the cars that have been destroyed as a result of the fault and will recall the 1248 Italias sold in Europe, although it affects none in the UK".
Ferrari also said that because of inaccurate reporting, the problem has been made to look worse than it really is.
Published on 2nd August 2010 at www.motoringpress.wordpress.com.