Stories Published on April 18th, 2012 | by Seán Ward
0
458 Nearly Crashes Into Veyron L'Or Blanc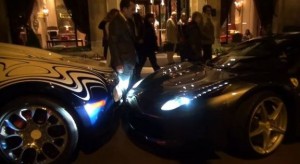 Shmee150 recently took a trip to Paris for an event called Cars and Coffee, held every year in Paris, but this year he witnessed something very special… And heart stopping.
As we know, quite often there is no correlation between the size of someone's wallet and their driving ability (have a look at How to Destroy Your Car understand more), but when you have parked your new 458 Italia next to the only L'Or Blanc Veyron in the World you would at least try to leave the space with some degree of care.
Not so. This chump came a bit too close to putting a £20,000 dink in the back of one of the rarest, and most expensive, cars in the world. To top it all off, in his attempt to manoeuvre around the Bug he wrecks his front left alloy on the kerb.
Clearly, the wallet is very big and the talent level very, very low.
Click here to see the Ugliest Ferrari 458 ever.