Stories Published on March 29th, 2012 | by Seán Ward
1
65% of Drivers Use Mobile Phones behind the Wheel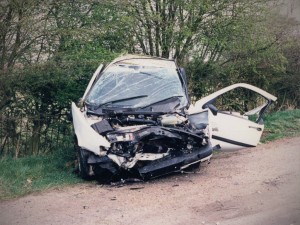 A new survey released by road charity BREAK today has revealed that 65% of drivers in the UK use their phones while driving.
Also, 25% admit that they use their phone behind the wheel at least one a week, while 48% say that they "risk their own and others' safety by chatting on a phone".
Brake and Direct Line will be launching a campaign next week trying to persuade drivers to 'drive smart'.
"Use a phone while driving and you are taking a horrendous risk with your own life and the lives of others," said Julie Townsend, Brake's deputy chief executive.
"Many drivers who wouldn't dream of drink-driving are using phones while driving, oblivious that the effect on your reaction times can be similar. We're urging people to drive smart, recognising that phone use at the wheel can and does destroy lives, and no call or text is ever that important."
The survey revealed that youngsters are the most likely to use a phone at the wheel compared to adults (52% compared to 48%), but that they are significantly more likely to text (44% compared to 27%) or use apps (21% compared to 9%).
Julie Townsend also offered this advice: "If you need to use your phone urgently, pull over somewhere safe first: it's as simple as that."
The charity is asking the government today to make it illegal to use a hands free connection, and impose a minimum 12 month driving ban on those caught using a phone.