Stories Published on August 6th, 2012 | by Seán Ward
0
700bhp Ariel Atom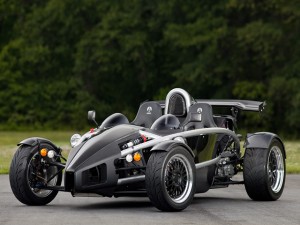 It would be impossible, you'd think, to make the Ariel Atom any more bonkers than it already is, even before Ariel slotted a V8 into the back, but now DDMWorks, a tuning company from North Carolina has managed to squeeze more than 700bhp out of the car.
When DDMWorks first got hold of an Arial, they decided the first thing to do was remove the 'standard' 300 bhp Honda VTEC engine and replace it with a Ford 2.0-litre Ecotec engine.
After some serious fettling, DDM took a Garrett GTX 3076 turbocharger and the Atom's standard Eaton M62 supercharger, bolted them on, and put the car on the dyno to test the 700bhp monster.
The Ariel Atom V8 can get from 0-60 mph in 2.7 seconds, so quite what this car can do with an extra 200bhp is unknown.
Inside, if you can call it 'inside', DDM has replace the standard steering wheel with one from Nightrider (i.e. with a gap at the top), so unless this new car has a super fast steering rack (unlikely, as this is a road car) any attempt to make the car slide will result in you flailing at the wheel for the missing section, resulting in a massive crash.
Interestingly, DDM have decided to keep the standard six-speed manual of the normal atom, which is likely to be the biggest hindrance to any serious attempts at a 0-60 timed run.
The price is unknown, but probably north of £120,000.
[portfolio_slideshow]