Stories Published on February 13th, 2011 | by Seán Ward
0
8 Spectators Killed at 4×4 Race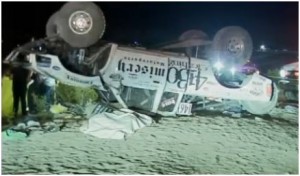 8 people were killed and 12 left wounded when a big 4×4 off-roader left the course and ploughed into the spectator area last night at the California 200 race in Southern California.
San Bernardino County sheriff's spokeswoman Cindy Bachman said that "most of the injured had to be air lifted to hospital".
The car that left the road was the first of 20 cars that were supposed to be taking part in the event.
A photographer at the event, David Conklin, said that "suddenly there was a lot of screaming and shouting. . . I saw one woman with a major head wound lying in a pool of blood. Someone else was crushed beneath the car".
Thousands of people attend the event each year at the Soggy Dry Lake Bed and an investigation will begin shortly into the crash.
Published on 15th August 2010 at www.motoringpress.wordpress.com.