Stories Published on February 1st, 2012 | by Seán Ward
0
800 bhp for MP4-12C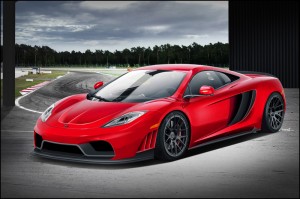 American tuning company Hennessey Performance has released a series of performance upgrades for the McLaren MP4-12C, upping power, reducing weight and dramatically improving performance.
Named the HPE800 Twin Turbo, pretty much the whole car has been reworked, so power has been upped from 592 bhp to well over 800 bhp, with some saying it could be as much as 850 bhp.
As well as the headline power increase, the HPE800 has an upgraded intercooler and air intake system, as well as new, higher strength ball-bearing turbochargers, and a revised engine management system.
Further modifications include a unique Hennessey titanium exhaust system, external wastegates, external blow-off valves and a new performance clutch system, able to cope with the power output of a Hennessey Venom GT, let alone a supercar with a lowly 800 bhp.
Inside, the car hasn't been stripped out as much as you might imagine; while weight has been lost, Hennessey want to keep a high level of quality, so a number of carbon fibre, Alcantara and leather options are included.
Aerodynamically, the car has been lowered to reduce drag and make a vague attempt at preserving fuel.
Also, to keep the car stuck to the ground without adding a large rear wing, a superlight CarbonAero body is fitted with light Monoblock wheels and race ready Michelin Pilot Super Sport Tires.
For peace of mind, the Hennessey Warranty is given to each customer, as the standard McLaren warranty isn't valid after even slight modifications.
Hennessey say that no upgraded brake or suspension systems will be offered because the McLaren system is already very advanced.
Company founder and President John Hennessey said: "We've been taking fast cars and have been making them faster for over twenty years now.
"I spent a lot of time around the new 12C at the 2011 Goodwood Festival of Speed and was very impressed.
"We're excited to have the opportunity to take a great car and give it our own special performance touch while giving 12C owners a uniquely aggressive appearance."
Customers can order the whole package from today, or just individual pieces if they wish.
[portfolio_slideshow]