Stories Published on November 7th, 2011 | by Seán Ward
0
876 bhp Ferrari SA Aperta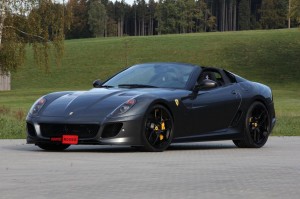 Novitec Rosso has announced a tuning package for the Ferrari SA Aperta that gives the car 876 bhp.
The very rare SA Aperta (only 80 have been made) is the convertible version of Ferrari's 599 GTO, and is already very powerful – 661 bhp and 460 lb/ft of torque.
But evidently some owners have been asking for a bit more punch, and the new package from Novitec raises the power by 215 bhp to 876 bhp, and torque by 178 lb/ft to 636 lb/ft, courtesy of a twin-supercharged reworked 6-litre engine.
The unnecessary but equally incredible performance upgrade means 0-60 mph takes 3.1 seconds, and a top speed increase to over 211 mph.
Also included in the package are exclusive Novitec wheels, stainless steel exhausts, lowered suspension, and unique styling changes to both the interior and exterior.
[portfolio_slideshow]