Stories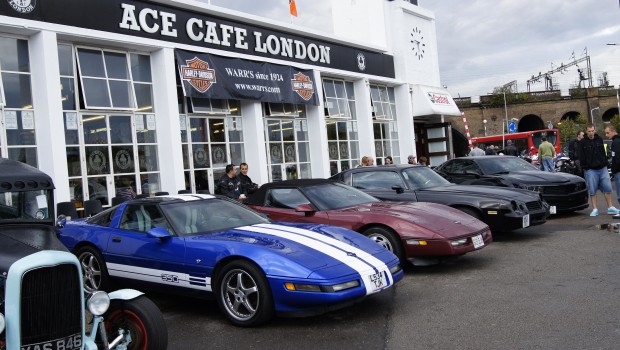 Published on January 29th, 2014 | by Seán Ward
0
Ace Café 2014 – Dates for your Diary
The Ace Café in London is known as one of the central hubs for the enthusiast community, and with a New Year come a number of new events.
A few events that look particularly good are the VXR Meet on 1st February, the Mustang 50th Anniversary Meet on 21st April, the Aston Martin Meet on the 24th May, Audi UR Quattro Night on the 26th May, Capri Club Meet on the 2nd August, and the Bentley Meet on the 14th September.
Bring your car, have a burger.
1st February, 11am – Vauxhall VXR Car Meet
3rd February, 6pm – German Bikes 'n' Cars – Meet for BMW and Mercedes, and a few others
5th February, 6pm – Hot Rod Night
11th February, 6pm – Classic Car Night + Lotus 7 + Midget & Sprite Club
13th February, 6pm – Italian Bikes 'n' Cars
19th February, 6pm – TVR, Lotus, Ginetta, Noble and Marcos
24th February, 6pm – Porsche Night
13th February, 6pm – Italian Bikes 'n' Cars
15th February, 6pm – Bimmer Boys UK Car Meet
17th March, 6pm – French Classic and Performance Car Night
22nd March, 11am – Mini GP UK Owners Club Meet
25th March, 6pm – Volkswagen Automotive Group Meet
29th March, 4pm – American Muscle Cruise In
30th March, 6pm – Stance Daily Car Meet
31st March, 6pm – Porsche Night
21st April, 12pm – Mustang 50th Anniversary Stampede
29th April, 4pm – Volkswagen Automotive Group Meet
3rd May, 6pm – Passion Ford Meet
5th May, 6pm – Jaguar Special Meet
10th May, 11am – BMW Day
17th May, 11am – Italian Car Day
22nd May, 6pm – Bristol, AC & Fraser Nash Owners Clubs
24th May, 11am – Aston Martin Meet
24th May, 6pm – Morgan and Marcos Meet
26th May, 6pm – Audi UR Quattro Meet
27th May, 6pm – Volkswagen Automotive Group Meet
7th June, 11am – Triumph Car Day
7th June, 6pm – Toyota MR2 Owners Club Meet
14th June, 11am – Mini Moke 50th Anniversary Meet
18th June, 6pm – TVR, Lotus, Ginetta, Noble and Marcos
19th July, 6pm – Celica GT4 Owners Club Meet
22nd July, 6pm – Vauxhall and Opel Meet Special
2nd August, 11am – Capri Club Meet
9th August, 11am – Jenson Owners Club
30th August, 6pm – Corvette Special
6th September, 11am – Kit Car Special
14th September, 11am – Bentley Meet
20th September, 11am – Nissan Z Car Meet
22nd September, 6pm – Honda Special
23rd September, 6pm – Toyota Special
4th October, 11am – Outlaw Jap Club Meet