Stories Published on November 12th, 2012 | by Seán Ward
0
Added Punch for Caterham Supersport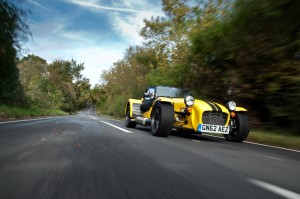 Caterham has announced that it will be selling an even faster version of its Supersport, the R, from January 2013.
Boasting a truly ridiculous 25% power increase over the 'standard' Supersport, the R has a 2.0 litre Ford engine rather than the 1.6 in the normal car, a five-speed manual gearbox, and a rather modest 180 bhp, which doesn't sound like much, but the R weighs just 535 kg.
"The Supersport's formula has struck a chord with driving enthusiasts," said Caterham Car's Chief Executive Graham Macdonald, "and we are confident that, by extending the range to include an R model, we will be able to build on the original's success.
"The performance of the car is very impressive but, teamed with the accessibility of the suspension specification that works so effortlessly on the road and track on the base model, it is well-balanced, satisfying and fun in terms of the driving experience it offers."
As well as small changes to the suspension and damping, Caterham has added a limited slip differential, and new Avon CR500 tyres. Customers can also opt for a six-speed manual gearbox, larger vented brake disks, leather adjustable seats rather than the standard bucket racing seats, a carbon fibre dash, a wide body chassis, and a track day roll bar.
Prices start at £24,995 if you want to build it yourself, but fully built cars come fresh from the factory for £27,995.
[portfolio_slideshow]