Stories Published on January 24th, 2012 | by Seán Ward
0
Alcon Launches New Supercar Brakes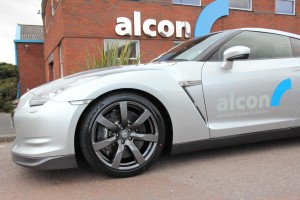 Brake system manufacturer Alcon has launched a new range of super high performance brakes that it will be providing to manufacturers including Nissan, Audi, Bentley, Ariel and Noble, as well as aftermarket customers.
The CCX (Carbon Ceramic Xtreme) disc represents a new step for Alcon as the material used is much lighter than previous generation carbon ceramic units, has even better heat resistance and weighs less than half of the equivalent steel disk.
As usual for carbon ceramics, the brakes work just as well from cold as from hot, and are fade free, unlike conventional steel disks.
One 'supercar it', the first for the new rage of brakes, was launched yesterday for the Nissan GTR.
It features 400 mm front vented disks, 385 mm rear vented disks, as well as six piston Alcon CX1 pads.
Alcon's Sales Director, Jonathan Edwards, said: "The brake systems on most modern supercars are without doubt of a very high quality – stopping distances, brake feel and fade resistance are significantly better than on older performance cars.
The systems are, however, a compromise between cost, performance and refinement. The CCX range of products developed by Alcon takes things to another level and the leap in outright braking performance is a quantum one.
"If you want the ultimate performing brake, then the Alcon CCX system for the GT-R fits the bill perfectly, on road or track."
[portfolio_slideshow]