Frankfurt 2011 Published on September 18th, 2011 | by Seán Ward
0
Alfa Romeo 4C Concept at Frankfurt 2011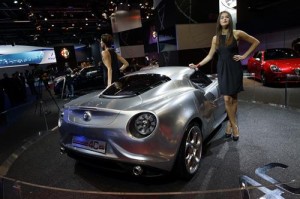 Alfa Romeo had on display its latest concept car, the 4C, on show at this year's Frankfurt motor show.
Displayed in a new exclusive 'fluid metal' colour, the 4C has been gradually getting closer and closer to what would be the production model.
For example, it has now been confirmed that the 4C will weigh just 850 kg, but have 200 bhp available, meaning a power to weight ratio of 235 bhp per tonne.
Alfa says 'the 4C showcases the formula of the two-seater, rear-wheel drive coupé with its central engine, a length of approximately 4 metres and a wheelbase of less than 2.4 metres.  These dimensions on the one hand emphasise the Alfa 4C Concept's compact attributes, whilst on the other accentuate its agility."
The 4C uses much of the same technology seen on the 8C Competizione supercar released in 2007 – carbon fibre, aluminium, and a twin dry-clutch gearbox.
Also on the Alfa stand at the 2011 Frankfurt Motor Show, the next generation Alfa Giulietta was showcased alongside the new Alfa Romeo MiTo.
[portfolio_slideshow]