Stories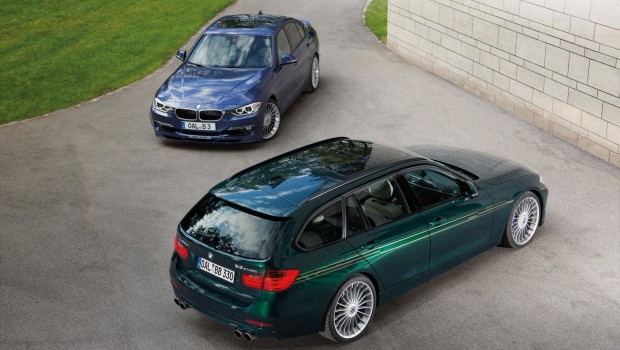 Published on October 10th, 2013 | by Seán Ward
1
Alpina Launches World Fastest Diesel: The D3 Bi-Turbo
Diesel isn't normally something to shout about, but today Alpina is changing that with the launch of their new Alpina D3 Bi-Turbo: 'The World's Fastest Diesel Production Car'.
Firstly, let's digest some numbers: the D3 has a 3 litre, twin-turbo in-line six, with 350bhp at 4,000rpm, and a faintly ridiculous 516 lb/ft of torque at 1,500rpm, thanks to two new turbos (rather than just one large turbo), a bigger intercooler, and a bespoke Alpina engine management system. Remember, that's all in a car that looks more or less the same as a standard 3 Series.
Claimed performance, as you'd expect with such numbers, is impressive also: 0-60 mph takes 4.6 seconds, and the top speed is 173 mph. And it does 53mpg.
To keep up with the hike in performance, Alpina has made other mechanical changes, too; As well as working with ZF to customise the eight-speed, Alpina worked with Akrapovic to build a new quad-pipe exhaust system, and also fitted revised springs and dampers (including a new four-setting variable damper system), chassis strengthening systems, a new traction control system, new Brembo brakes, and bespoke D3 Michelin Pilot Super Sport tyres.
Cosmetically, changes have been made that mean the car that Alpina claims "reduce high-speed lift to almost zero", alongside 19 inch wheels, Alpina logos on the seat backs and door sills, and `instruments finished in 'Alpina Blue'. The changes look good, to put it mildly.
Perhaps the greatest thing Alpina have said about the car so far is "although optimised for fast road driving rather than track use, BMW ALPINA cars are engineered to provide consistent performance and high reliability when driven hard for long periods". That might seem insignificant to many, but when Nürburgring times are getting rather boring, Alpina's ideas about a balance between "increase performance, comfort and style" are rather refreshing. Top work.
Prices start at £46,950 for the saloon and £49,950 for the estate.
UPDATE!The D3 is available to order now, or you can configure your ideal car on Alpina's website.