Stories Published on February 1st, 2011 | by Seán Ward
0
Another GTO? No, unfortunately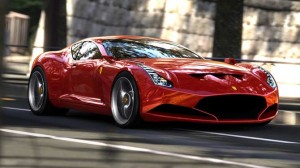 Just a couple of months after the press launches of the Ferrari 599 GTO, an interesting image of a Ferrari 612 Scaglietti GTO has emerged.
With a Lamborghini looking front end, gills in the side like a 550 Maranello, Lancia Stratos styled side windows, and a rear end that looks similar to both the Ford GT 40 and the Alfa Romeo 8C, it looks great, but it will never, ever be made. It is in fact what the 612 GTO would look like from the mind of German designer Sasha Selipanov.
Instead, we'll have to wait another 20 years or so until the next GTO comes out. Still, we have the 599 GTO while we wait…
Published on June 16th 2010 at www.motoringpress.wordpress.com.
.
.
[portfolio_slideshow]