Stories Published on December 14th, 2011 | by Seán Ward
0
Aron Smith wins Young Driver Awards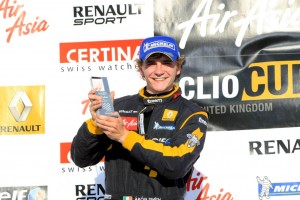 Aron Smith, a young racing driver from Dublin, has been crowned as Motorsport Ireland's Young Racing Driver of the Year for 2011.
The impressive title comes after a point scoring race in his first ever British Touring Car Championship race, and after a successful run in the RenaultSport UK Clio Championship.
As well as the award, he was presented with the Dunlop Sexton Trophy at the ceremony in Dublin, and a €50,000 cash prize.
Also at the ceremony was Eddie Jordon, who was presented with the Motorsport Ireland Hall of Fame award, and Craig Breen, who recently won the World Rally Championship Academy.
Smith spoke to Newmotoring, and said what an hounour it was to have been given the award: "To win the Dunlop Sexton Trophy was great, and to know I have the most prestigious trophy in Ireland sitting in my house is a great feeling.
"I can't thank Motorsport Ireland enough for the award, not only is it a financial aid but it's a huge boost in confidence.
"Since I started Karting in Ireland my dream was to race in the BTCC. When I got to drive a Knockhill it was literally a dream come true, and to be on the cuff of getting a full season next year is still hard to get my head around!
"To be the BTCC champion needs something special, so I would love to think that I could one day be the BTCC champion."
[portfolio_slideshow]