Stories Published on January 10th, 2012 | by Seán Ward
0
Aston Heads to US for new Race Season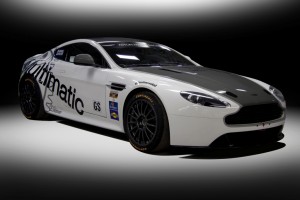 Aston Martin is taking its new V8 Vantage GT4 to its first official race outside of Europe later this year when it joins Multimatic Motorsports in the Grand-Am Continental Tire Sports Car Challenge 2012.
Aston Martin has spent the past five years racing the Vantage GT4 in Europe, but in an attempt to build a presence elsewhere in the world will be sending two official cars to the USA.
Multimatic Motorsports has won the championship three times since it started in 2000, which is why Aston has chosen to be their partner for 2012.
The first car will be driven by Multimatic racers Scott Maxwell and Joe Foster, and the second car will be piloted by actor Patrick Dempsey and Chris Porritt, Aston's Chief Engineer.
The series runs over ten races, all of which last for two and a half hours and require a mandatory driver change.
Testing began at Daytona on January 6th, and the first race will be held at the same track on the 27th January.
Like the road car, the GT4 has a 4.7 litre V8 engine that produces 420 bhp and 470 Nm of torque.