Concepts Published on May 20th, 2013 | by Seán Ward
0
Aston Launches CC100 Speedster Concept at Nürburgring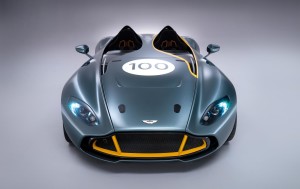 Aston Martin has launched a new convertible concept car, the CC100 Speedster, at the Nürburgring 24 Hours to celebrate its 100th anniversary.
Measuring in at four and a half meters long and two meters wide, the CC100 was designed and built in six months, both to celebrate Aston's anniversary but also as a celebration of Aston's racing history, with styling nods to the 1959 Nürburgring 1000 winning DBR1.
As such, the CC100 was unveiled at the N24 alongside the classic DBR1, with Aston boss Dr. Ulrich Bez at the wheel of the CC and Sir Stirling Moss, who won the N1000 in 1959 at the wheel of the DBR1, piloting the classic racer.
Bez, who's racing the #100 Rapide Hybrid Hydrogen car at the N24, said that the "CC100 is the epitome of everything that is great about Aston Martin. It represents our fantastic sporting heritage, our exceptional design capability, our superb engineering know-how and, above all, our adventurous spirit!
"I have nicknamed it 'DBR100' because of its affinity to the great 1959 race-winning cars and, of course, our 100-year anniversary in 2013.
"But this car is more, even, than a simple 'birthday present' to ourselves: it shows that the soul of Aston Martin – the thing that differentiates us from all the other car makers out there – is as powerful as ever and I very much hope that everyone who catches a glimpse of it at the Nürburgring today enjoys seeing it."
Built mostly of carbon fibre, the CC100 has the same AM11 V12 that's seen in the new DB9 and Vanquish, but power and torque figures are being kept quiet, as are most of the other technical details except those for the gearbox, which is a six-speed sequential 'box. 0-60 mph takes "a little over four seconds", and the top speed is limited to 180 mph.
As well as the CC100 and the DBR1, a further 100 Aston Martins took to the track for a parade, including the DB5 used in Skyfall, a One-77, a Centenary Edition Vanquish with the number plate '100YRS', as well as a DBS, DB9, Vantage and Rapide, and the slightly older DB3, DB2/4 Drophead, DB7 Zagato and a V12 Vanquish S.
Alongside the Hybrid Hydrogen Rapide, Aston has entered a works V12 Vantage GT3 into the N24 (#007), a standard V12 Vantage (#005), and a number of customer V8 Vantage GT4 cars (#006, #060, #061, #062, #072).
[portfolio_slideshow]