Stories Published on February 10th, 2012 | by Seán Ward
0
Aston Martin Cygnet by Kahn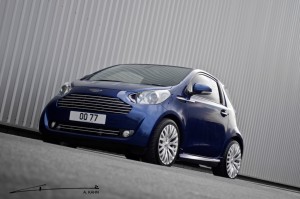 A. Kahn Design's latest project, the Cygnet by Kahn, is being launched today, and judging by the press images the whole Kahn design team has done a very good job.
It doesn't look too different from the 'standard' Cygnet, which is a good thing seeing as the Cygnet, although a very odd shape for Aston Martin, by far and away isn't the ugliest small car on the market, although it is one of the most expensive.
The most noticeable change is that to the colour, both to the whole body and grille. Finished in dark metallic 'imperial blue' paint, the body has new blue metallic bonnet louvres and brake calipers finished in heat resistant blue paint.
The classic Aston Martin face is characterised by the new white grille, and the wheels would be familiar to any Kahn fan: RS 17 inch fronts and 18 inch rears.
Before you take a look at the pictures, you must first hear what the Kahn PR people say about the cygnet (these little slogans are released with every new car, and get better every time: "We provide our customers with the opportunity to express one's individuality. And they can have whatever they want. Afzal Kahn could, for example, design an exterior the colour of your jeans and an interior with seats the same shade of a grey T-shirt. Customers could change the colour of the clock, or ask for anything else, the world is their oyster, so to speak."
Kahn's Cygnet is the first of something called the 'Kahn Challenge', where anyone can challenge the designers to take on a particular car, redesigning it completely, or just making it a little bit faster.
[portfolio_slideshow]