Stories Published on September 11th, 2011 | by Seán Ward
0
Aston Martin GT4 Challenge Heads to Dijon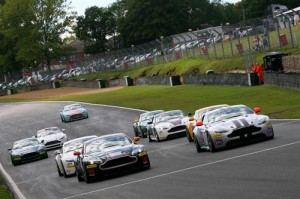 The Aston Martin GT4 Championship will head to Dijon this weekend for the final round of the 2011 season.
Hailed as one of the most exciting racing events for Aston Martin's cars, races took place at Silverstone, Snetterton, Donington, Spa Francorchamps, Oulton Park and Brands Hatch.
2011 also saw the greatest number of races ever seen in the championship.
The Generation AMR car of Mark Poole and Richard Abra took first place in the first race back in April at Silverstone, after a hard battle with Red Bull Team Principal, Christian Horner.
The series then travelled to Snetterton and, after an incident packed session the race was re-started with the Nicholas Mee Racing entry crossing the line to take first place at the hands of Karsten le Blanc and Dan De Zille.
The next race at Donnington was won by Chris Kemp, Stuart Hall and Tiffany Chittenden of Stratton Motorsport, and the following race at Spa Francorchamps, Karsten le Blanc and Dan de Zille of Nicholas Mee Racing took two more wins.
Then at Oulton Park, Tom Black and Alan Bonner won in the Vantage Racing car to take their first win of the series, and last month, Brands Hatch offered up further excitement with Dan de Zille taking another win.
This weekend promises to be a good race, as competition in this historic setting will be high.