Stories Published on November 18th, 2011 | by Seán Ward
0
Aston Martin Reaches 1,000,000 Facebook Fans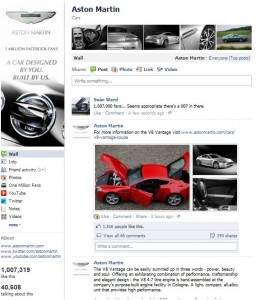 Aston Martin has this week reached an historic internet milestone, finally getting 1,000,000 fans on Facebook after joining in 2009.
In celebration, Aston has given fans the opportunity to propose the features on an Aston known as the 'Millionth Fan Car'.
The car can be any one of the models sold by Aston, excluding the rare One-77, and the most popular ideas will be incorporated in the car.
Each participant will receive a certificate displaying the car's specification, before it is built in March and showcased throughout the rest of 2012.
Aston Martin said that as the 1,000,000 fan mark approached, interest in the Facebook page increased. As a result, there were 280,000 new 'likes' in the final six months, roughly 5000 per day.