Stories Published on November 22nd, 2011 | by Seán Ward
0
Aston Martin V12 GT3 Starts Begins Testing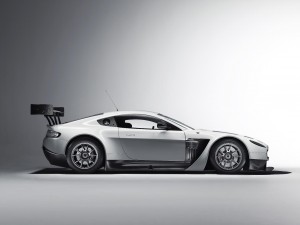 The Aston Martin V12 Vantage GT3 has begun testing this week ahead off its sign off next year.
Completing 1000 km over the weekend at Brands Hatch in the hands of Darren Turner, one of Aston's test drivers, the car is said to mark a new evolutionary stage for Aston's race division.
"The car ran like clockwork throughout and we've managed really good mileage already", Turner said on Sunday. "The feeling of the V12 Vantage GT3 is a massive step forward from the DBRS9.
"Being based on the smaller Vantage it is more responsive and feels more nimble, giving the driver plenty of confidence to extract all the performance from the V12 engine while also being light on its tyres. It isn't too physical to drive and I didn't even break into a sweat during the test!
"With the clean styling and the amazing sounding V12, it's closer to the core values of Aston Martin's road cars than any of the racing cars we've ever built. I'm certain it'll become a favourite among motorsport fans in no time at all."
The V12 GT3 is the replacement for the DBRS9, launched in 2006 as a slightly less powerful version of Aston Martin's very own race car the DBR9.
It uses a significantly revised version of the DBRS9's 6.0-litre V12 engine. Changes include a lightweight crankshaft, dry sump lubrication and new valve trains for even greater performance and reliability.
Power is estimated at 600 bhp, torque at 700 Nm, and like the other Aston Martin race cars six piston calliper brakes are fitted at the front and four calliper brakes at the back, and a six-speed sequential gearbox.
The car only weighs 1250 kg, and thanks to the power and lightweight aluminium chassis, 0-60 mph should take around three seconds.
John Gaw, Aston Martin Racing Managing Director, said: "The testing of the new V12 Vantage GT3 has gone really well. We haven't had any significant issues with the car.
"The Vantage GT3 is the ultimate expression of all the experience that Aston Martin Racing has gained in the past six years. The DBRS9 still has a year of FIA homologation remaining, which effectively makes 2012 a development year for the V12 Vantage GT3.
"We're very confident that the Vantage GT3 will be a competitive force in all GT3 series, winning races and eventually titles as well. Given our track record in engineering and building fast and reliable GT cars, we're very confident that the new Vantage GT3 will build on the DBRS9's success over years to come."
[portfolio_slideshow]