Stories Published on August 25th, 2011 | by Seán Ward
0
Aston Martin V12 Vantage GT3 Specifications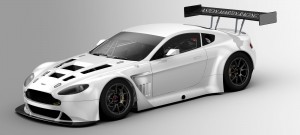 Specifications of the V12 Vantage GT3, successor to the DBRS9, have been released.
The 6 litre V12 engine that has featured in Aston's road cars for a number of years has been race prepared and now has 600 bhp and 700 Nm of torque, and has been fitted to a six speed sequential gearbox.
With a shorter wheel base, the GT3 is nimble, and thanks to new muscular aerodynamics, can corner at much higher speeds than the standard V12 road car.
The Vantage GT3 will be eligible for numerous race series around the world including the FIA GT3 Championship, ADAC Masters, Nürburgring VLN, Blancpain Endurance Series, British GT, Belcar and Open GT among others.
Aston have said the GT3 "will offer customers the latest in race-car technology to ensure the Vantage GT3 has the credentials to compete with the most recent new product offerings from other manufacturers.
"Aston remains the only manufacturer to offer a race car for every GT class firmly cementing it as a global forerunner in race car production. The new Vantage GT3 is being developed to replicate and indeed surpass the superb track record of the DBRS9".
[portfolio_slideshow]