Uncategorized Published on April 14th, 2011 | by Marc da Motta
0
Aston Martin Vantage GT3 to Replace DBRS9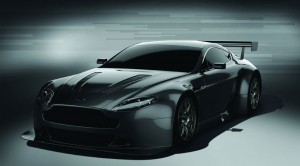 Aston Martin Racing is bringing out a new car to replace the incredibly successful DBRS9 racer that was launched in 2006 at Le Mans – the Aston Martin Vantage GT3.
To this day, the DBRS9 is still finishing on the podium, but Aston Martin Racing's John Gaw says that "It's time to move on and compete with a new car that benefits from the latest racing technology design and the knowledge gained during six years of racing."
The GT3 will be built around the Vantage's VH aluminium structure (the same one as the V12 Vantage road car), but they're aiming for a weight of just 1250 kilograms.  The engine will be a lightweight dry-sumped 6.0-litre V12, producing upwards of 600bhp and 516lb ft of pulling power, and it'll also be equipped with the latest race-developed ABS and traction control systems, for obvious reasons.
The picture above is only a rendering, as the first car will only be ready in July. That first car will then be put through extensive testing before ten customer cars are built and delivered in time for the start of the 2012 race season. All of this makes for some exciting stuff in the future.