New Cars Published on June 20th, 2013 | by Seán Ward
0
Aston Reveals Topless Vanquish – The 'Ultimate Volante'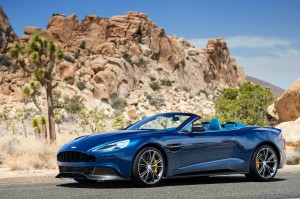 Just a year after launching the coupé Aston has launched the convertible Vanquish: the Vanquish Volante, with Aston's Boss Dr Ulrich Bez hailing it as the "ultimate Volante".
"Aston Martin is celebrating 100 years of excellence in 2013, and the arrival of this new sports car – our ultimate Volante – underlines that our mission to make the next 100 years even more successful is starting perfectly," said Bez.
"This car is what luxury super GT driving is all about. Great performance, fantastic style and exhilarating Volante motoring in one superb package."
Under the bonnet sits the same 6.0 litre V12 engine in the hard top car, with 565bhp and 457lb/ft of torque, and oddly for an open top Aston performance remains the same: 0-60 mph takes 4.1 seconds, and the top speed is 183 mph (rather disappointing when you compare it to the old Vanquish S from 2004 which had less power, more weight, and yet could top 200mph).
Still, the new Vanquish convertible (there was never an official convertible first-gen Vanquish) is an impressive carbon fibre creation, and underneath the bodywork lies the same six-speed semi-automatic gearbox, but fitted alongside reworked suspension and dampers to better suit the character of the car.
Like the Vanquish Coupé, the Volante retains an impressive 51-49 weight distribution, but unlike previous Volantes, like the DB9 and DBS, the Vanquish's body is made entirely of carbon fibre, and as a result Aston claims that it's the strongest convertible body structure the company has ever made (it's 14% stiffer than that of the DBS).
But most people who buy the Vanquish Volante won't be too bothered about thrashing it and pushing the car to the limit and beyond; for most, all they'll need to know is that the cloth roof takes 14 seconds to deploy, and that the boot is 50% bigger than that of the old DBS Volante.
Prices start at en eye watering £199,995 without options, £10,000 more than the coupé. Be prepared to spend another £50k if you want all the options.
[portfolio_slideshow]