Stories Published on June 12th, 2012 | by Seán Ward
0
Astra VXR Launched at Rockingham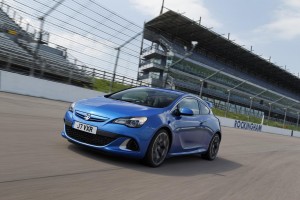 Vauxhall has launched its new VXR at Rockingham circuit in Corby, Northamptonshire.
But this was no ordinary launch, as Vauxhall organised a Motor Sport Association accredited Astra VXR Media Sprint Challenge, so journalists invited will spend three days thrashing the new VXR to see who can produce the fastest time.
"We wanted to create a unique launch, but finding a venue with the right motorsport and delegate facilities isn't easy," explains Simon Hucknall, Vauxhall's PR Manager. "As a fully fledged race track and conference centre, Rockingham is capable of hosting an MSA endorsed sprint and entertaining our guests."
All the journalists also complete a 110 mile road route in the surrounding countryside.
The new VXR has a 2.0-litre turbocharged engine with 278 bhp and 295 lb/ft of torque, meaning it can get from 0-60 mph in 5.9 seconds.