Stories Published on January 26th, 2012 | by Seán Ward
0
Audi A1 Quattro to Come to UK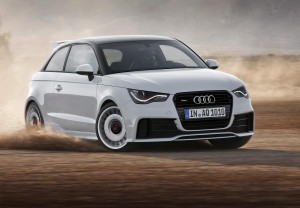 Audi will be bringing the very limited production Audi A1 Quattro to the UK in late 2012.
Revealed last year, the hot A1 will have the same turbocharged 2 litre engine seen in the S3, producing 252 bhp and 258 lb/ft, with Audi boasting that it should have the performance to match the S3 itself, with a 0-60 mph time of 5.7 seconds.
The top speed is 152 mph, 11 mph faster than what is currently the hottest A1, the 1.4 TFSI, although fuel economy is down to 33.3 mpg on the combined cycle.
333 examples are being built and sold worldwide, all of which will be in left hand drive, and only 20 of which will be coming to the UK.
A new ESP system has been developed for the Quattro, which uses the car's differential to brake whichever wheel is spinning, giving more traction.
A rear spoiler is fitted as standard, as is a new carbon fibre rear diffuser and hefty racing Quattro seats.
If you want one, Audi says that deposits are coming in fast, and that some buyers may have to pay a premium.
Click here to read more about the new Audi A1 Quattro.