Stories Published on April 20th, 2012 | by Seán Ward
0
Audi Buys Ducati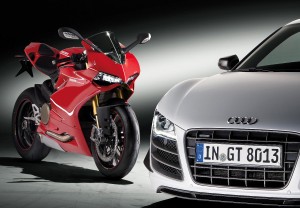 Audi has bought Italian motorbike manufacturer Ducati in an agreement that costs Audi 1.2 billion Euro, giving Audi control over three Italian brands, the other two being Lamborghini and Italdesign.
While the sale may seem odd, to the renowned and somewhat eccentric boss of VW, Ferdinand Piech (who had the incredible vision to build the Bugatti Veyron), the sale is simply another 'lowly' purchase for VW, which is thought to be worth more than £200 billion.
Audi's Chairman Rupert Stadler said: "Ducati is known worldwide as a premium brand among motorcycle manufacturers and has a long tradition of building sporty motorcycles.
" It has great expertise in high-performance engines and lightweight construction, and is one of the world's most profitable motorcycle manufacturers. That makes Ducati an excellent fit for Audi."
Last year, Ducati's 1,100 strong workforce produced and sold 42,000 bikes, making a total of £480 million.