Stories Published on April 23rd, 2012 | by Seán Ward
0
Audi Q3 RS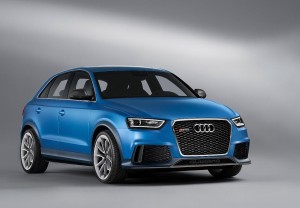 Audi has unveiled a new concept car, the Q3 RS, a fantastic looking SUV with performance similar to that of the RS4 and R8.
Sounds good? Well, 0-60 mph takes 5.2 seconds and the top speed is limited to 165 mph thanks to a turbocharged five-cylinder engine, so it will certainly embarrass the cars like the M3 and C63 at the top end.
The ride height has been lowered by  25 mm to help it through the corners, and it's received a number of cosmetic upgrades and modifications to set it apart from the normal Q3: an interior mix of leather, Alcantara and blue carbon fibre, massive 20 inch alloy wheels, bigger brakes, a more vocal exhaust, and s stunning front end, with scoops that resemble those on the brakes of an F1 car.
But is it worth it? Prices haven't been announced yet, but cars like this are normally hated by the motoring press because they're not an all out sports car like the RS3 and they're not the more comfortable, cheaper base models, in this case the Q3. A BMW X5 M is a prime example.
But until it's driven, you have to admit it looks fantastic.
[portfolio_slideshow]