Stories Published on July 12th, 2012 | by Seán Ward
0
Audi SQ5 TDI – More Pictures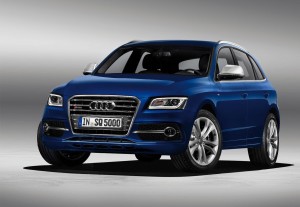 More pictures of Audi's first ever diesel 'S' badge car have been released, and so far as we can see it's quite an attractive car, but will it live up to the name?
The 3.0-litre bi-turbo TDI motor produces 479 lb/ft of torque and an ok 315 bhp. 0-60 mph takes 5.1 seconds, and the top speed, as all German cars are, is limited to 155 mph.
Being such a leviathan with a 'sporty' engine, Audi have had to put more time than usual into suspension, gearbox and wheel development, so it sits 30mm closer to the road, has an almost excessive 8-speed semi-automatic gearbox, and enormous 21 inch wheels, which can be upgraded to 21 inches.
The interior is lavished in leather, Alcantara and bits of brushed aluminium and carbon fibre, but this is still a car made for moving around things and people, so Audi makes a point that the luggage capacity is 1,560 litres.
In all honesty, it would have been better to put an S badge on something a little smaller, like a diesel A4, because there isn't even a petrol powered 'SQ5', but when the car hits the showrooms it will likely sell like hotcakes to those who like big, fast 4x4s with decent fuel economy (39 mpg, to be precise).
Prices will start at £45,000 when orders open in October.
[portfolio_slideshow]