Geneva Motor Show 2012 Published on February 10th, 2012 | by Seán Ward
0
Audi's Own R8 Rival – the TT RS Plus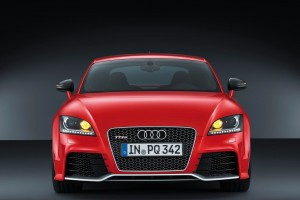 Audi gave the motoring world a bit of a shock this morning by unveiling the TT RS Plus.
It's been nearly five years since the original TT RS came out, and many thought it had gone away for good, but this morning it became clear that the RS division of Audi is still working hard, even if they're offering a cheaper, similarly fast R8 rival.
Like the standard TT RS, the Plus has a 2.5 litre turbocharged, five-cylinder engine, but thanks to some electronic fiddling and turbo modifications, power is up from 335 bhp to 355 bhp, and torque up from 332 lb/ft to 343 lb/ft.
0-60 mph sprints take just 4.3 seconds for the six-speed manual, a decrease from 4.5 in the normal RS. Similar cuts are to be found in the six-speed semi-automatic, too, with the sprint taking 4.1 seconds rather than 4.3.
For those who bought the old car, you'll be disappointed to hear that the top speed limiter has been relaxed somewhat, so the Plus can do 174 mph rather than the almost static 155 mph.
Following in the footsteps of the most recent RS model, the RS3, the Plus has red-rimmed wheels, carbon mirror housings, black exhaust tips, anthracite and aluminium interior an body detailing, a new rear wing and a revised, wider front grille.
UK prices and specifications haven't been announced, but will probably be around the £50,000 mark, and another £5k more for the roadster.
The TT RS, new RS4 Avant and A3 will all be unveiled at the Geneva Motor Show in March.
[portfolio_slideshow]