Stories Published on March 28th, 2012 | by Seán Ward
0
Avantime 10th Anniversary Celebration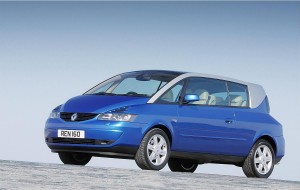 Normally, the anniversary of a big, family Renault wouldn't be news at all, but when the Avantime reaches the decade, it can't be ignored.
Unlike many of the other terrible big Renaults, the Avantime was always something of a style classic; it turned the boring people carrier market into a market full of excellent design work, innovation, and an emphasis on looks and quality rather than cheapness.
Well, it nearly did. Certainly, it's changed the direction of the people carrier market, but at the time it was a big sales flop.
For those who bought one, however, are very lucky indeed. Not only are they fantastic looking things with great engines, but there's a big birthday celebration with plenty of cake to commemorate the ten years of Avantime.
Avantime Owners Club will drive their cars to the Transport Museum in Coventry on April 7th, where they'll sit, chat, eat and generally have a nice time.
If you're free on the 7th, go and have a look because you'll probably never see so many Avantimes together at in the same place again.
[portfolio_slideshow]