Stories Published on April 1st, 2012 | by Seán Ward
0
Batman's Lamborghini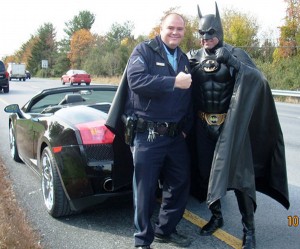 When you think of Batman you think of a monster matte black car, with monster power, monster performance, a monster price tag and insane looks. Sounds about right, as this week Batman was spotted climbing out of his Lamborghini Gallardo Spyder.
Batman was pulled over by Police in Montgomery County, Maryland, because his car was wearing invalid number plates, featuring the Batman logo.
Once pulled over, the real plates were put on, and after a hand shake and a few photos, he was waved on his way.
Rather than punching a baddie in the face accompanied by the word 'POW', he was in fact going to cheer up children suffering from cancer in the local hospital. The event is called 'Superhero Celebration' and was held to raise funds for 'Hope for Henry', as well as cheer up the kids.
As you'd expect, Batman was not charged. All we need to see now is a real Transformer and the motoring world will be complete.
(If you can face the pain of knowing his identity, his real name is Lenny Robinson.)