Formula One Published on March 9th, 2013 | by Seán Ward
0
BBC and Sky F1 Coverage – Who's Showing What, Where and When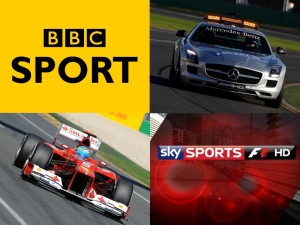 Last year was the first year when both the BBC and Sky were able to broadcast Formula One races, with Sky able to show all twenty races live and the BBC just ten.
2013 is almost the same, as the BBC will show just nine of the nineteen 2013 races.
But seeing as there was so much confusion over who was showing what last year, we've decided to compile a little list of who's covering which races, and what other content is available from the BBC and Sky F1 teams, as well as the high profile presenter changes.
This year, the BBC's Formula One coverage on BBC 1 and BBC 2 will not be fronted by Jake Humphrey, who has presented Formula One for the BBC since the BBC won the rights for Formula One back from ITV in 2009. Instead, BBC F1 will be presented by ex-Channel 5 Gadget Show presenter Suzi Perry.
Perry previously presented Moto GP for the BBC for thirteen years between 1997 and 2010, and will be joined this year by David Coulthard as a commentator and presenter, Ben Edwards as the main commentator, Eddie Jordan as chief analyst, Lee McKenzie as chief pit lane reporter, and Gary Anderson as the technical analyst. Also, alongside Lee McKenzie this year will be presenter Tom Clarkson.
Elsewhere on the BBC, Lee McKenzie will be presenting Inside F1 on the BBC News Channel every Friday and Saturday of a race weekend, and every race, qualifying and practice session can be heard live on BBC Radio 5 Live with James Allen, Jennie Gow, Jonathan Legard and multiple LeMans 24 Hour winner and former F1 driver Alan McNish.
The BBC's TV coverage is detailed below, although exact programming times have not been announced:
Australian GP – 14th-17th March 2013 – Highlights
Malaysian GP – 21st-24th March 2013 – Highlights
Chinese GP – 11th-14th April 2013 – Full Race
Bahrain GP – 18th-21st April 2013 – Highlights
Spanish GP – 9th-12th May 2013 – Full Race
Monaco GP – 23rd – 26th May 2013 – Highlights
Canadian GP – 6th – 9th June 2013 – Full Race
British GP – 27th – 30th June 2013 – Full Race
German GP – 4th – 7th July 2013 – Highlights
Hungarian GP – 25th-28th July 2013 – Highlights
Belgian GP – 22th – 25th August 2013 – Full Race
Italian GP – 5th – 8th September 2013 – Full Race
Singapore GP – 19th – 22nd September 2013 – Highlights
Korean GP – 3rd – 6th October 2013 – Highlights
Japanese GP – 10th – 13th October 2013 – Full Race
Indian GP – 24th – 27th October 2013 – Full Race
Abu Dhabi GP – 31st October – 3rd November 2013 – Highlights
United States GP – 14th-17th November 2013 – Highlights
Brazilian GP – 21st-24th November 2013 – Full Race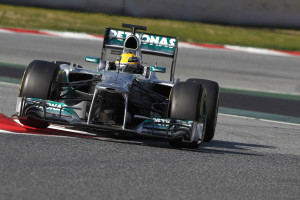 The usual host of post race discussion and interactive content will be available for race weekends, including a vast source of information and videos on the BBC F1 website.
As for Sky F1, despite previous rumours, the team will remain unchanged. Simon Lazenby and Georgie Thompson will present the main coverage (although news reports claim that Thompson may quite the job before the start of the new season) alongside Damon Hill, Johnny Herbert,  Anthony Davidson, Ted Kravitz and Natalie Pinkham, as well as Martin Brundle and David Croft who will spend most of their time commentating on the on-track action.
One bonus to watching Sky's coverage is that, unlike the BBC, Sky holds the rights to show all of the season's races on its dedicated F1 channel, as well as a whole host of other F1 related programming (including the popular F1 Legends  presented by Steve Rider) and live coverage of GP2 and GP3 races.
Another good feature of Sky's coverage is the 'Sky Race Control' interactive service, which allows viewers to watch the race, access on-board cameras (a feature also available on the BBC red button) and view live timing screens.
Like the BBC, Sky offers videos, interviews and results on its Sky F1 website.