Stories Published on February 10th, 2012 | by Seán Ward
0
Bentley Continental GT V8 Files over Munich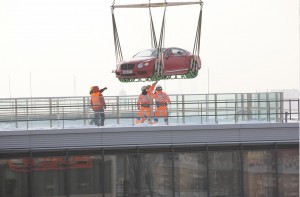 If you were in Munich on Wednesday, you might have noticed a flying Bentley Continental GT V8.
This was in fact a launch stunt for the new V8, of which few have actually been seen on the road or track yet, let alone cruising at several thousand feet above commuters.
Klaus Becker, General Manager of Bentley Munich, who organised the flight, said: "A dramatic car got the debut we felt it deserved and we took a little bit of our inspiration from Bentley's iconic 'Winged B' emblem.
"On a practical level the helicopter was the fastest way to get to the rooftop podium."
Where the car was set down played host to a special Bentley party for 300 VIP guests, including previous Bentley customers and Bentley ambassadors such as Derek Bell.