Stories Published on January 4th, 2012 | by Seán Ward
0
Bentley Sales on the Up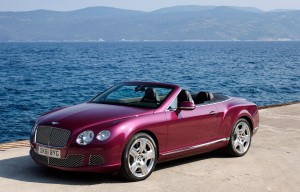 Bentley has experienced a significant increase in sales over previous years, with a global sales increase of 37% over the previous year, with a total of 7,003 customer deliveries.
December sales were especially good for Bentley, too – a total of 1059 vehicles sold, an increase of 69% over December 2010, and the second best month in the company's history.
The British brand saw most of its sales in the USA, with a total of 2021 cars sold in 2011, an increase of 32%.
China came in a close second, with 1,839 vehicles sold. These sales figures meant that, for China, the previous year's records were beaten by June 2011.
Wolfgang Dürheimer, Bentley's Chairman, said "It has been a tremendously good year for Bentley. The dramatic sales growth reflects a global strength to the Brand and recognition of the quality, craftsmanship and engineering excellence of our cars.
"It has been particularly pleasing to see renewed interest in Bentley in established as well as and new and emerging markets, all of which is contributing to a positive financial result for 2011.
"We want that success to continue and, with a new Continental V8 set to attract new customers in 2012, have ambitious but realistic plans which reflect global economic conditions as much as our new product line up."